Project Background
---
The Bang Yai – Kanchanaburi Intercity Motorway, with route designation M81, is one of the flagship projects included in the Strategic Action Plan of the Ministry of Transport's Infrastructure Investment and the Ministry of Finance's PPP Fast Track scheme, both of which are aimed at expediting the fruition of a range of mega-project plans designed to stimulate the Thai economy.
---
Civil work of the project, now under construction, is divided into 25 contracts so as to facilitate faster construction tasks thus enabling their meeting the planned work schedules. In regard to the Design and Build of motorway system, operations and system-wide maintenance following official route opening, the Cabinet, via a resolution passed on 22 August 2017, has given an approval for the Department of Highways to invite private entrepreneurs to participate in the investment and running of this project on the Public Private Partnership (PPP) Gross Cost platform, whereby the private sector party is to finance the system installation of motorway facilities for toll collection and traffic control surveillance system as well as to perform system-wide operation and maintenance services (O&M). With the PPP Gross Cost scheme, all toll revenue shall accrue to the public sector party while the private-sector operator shall be remunerated for the costs of system installation and his performance of route operation and maintenance according to pre-defined terms and conditions.
Project Details
---
1. Route Alignment
A system with comprehensive access control, the Bang Yai - Kanchanaburi Intercity Motorway alignment is approximately 96 km long. The route alignment starts at the intersection of the western Outer Ring Road (or Kanchanaphisek Road) with Rattanathibet Road, at Bang Yai Interchange in Nonthaburi Province, and ends at the connection with Highway 324 (Kanchanaburi – Panomtuan Road) in Tha Muang District, Kanchanaburi Province.
---
There are eight (8) interchanges linking the M81 with major highways, plus eight (8) toll plazas. Designators and locations of these facilities are listed below:
---
Interchanges:
---
1) Bang Yai Interchange, connecting with Motorway No. 9 and Rattanathibet Road (Highway 302).
---
2) Nakhon Chai Si Interchange (Highway 3323)
---
3) Nakhon Chai Si Grade Separated Intersection (Motorway No. 91)
---
4) East Nakhon Pathom Interchange (Highway 3036)
---
5) West Nakhon Pathom Interchange (Highway 321)
---
6) Tha Maka Interchange (Highway 3394)
---
7) Tha Muang Interchange (Highway 3081)
---
8) Kanchanaburi Interchange (Highway 324)
---
Toll Plazas:
---
1) Bang Yai
---
2) Nakhon Chai Si
---
3) Nakhon Chai Si Intersection
---
4) East Nakhon Pathom
---
5) West Nakhon Pathom
---
6) Tha Muang
---
7) Tha Maka
---
8) Kanchanaburi
---
In addition, three (3) motorway rest areas with related facilities for motorway users are provided. These are classified into 2 types as follows:
---
1) Service Area x 2
---
- Nakhon Chai Si District
---
- Muang Nakhon Pathom District
---
2) Rest Stop x 1
---
- Tha Maka District
---
** Investment in and management of the Motorway Rest Areas are not included in the scope of the PPP for Operation and Maintenance package.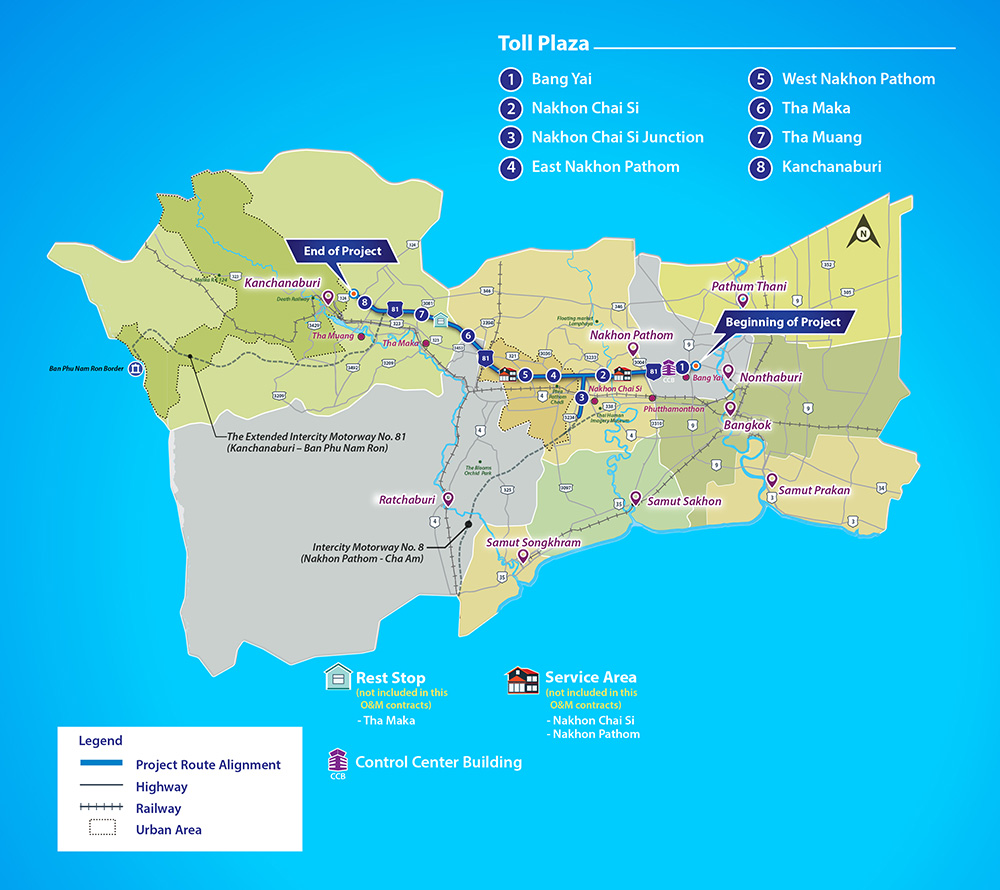 2. Construction Design Concept
A new approach will be employed in the construction of the M81 based on the latest motorway standards. Its carriageway will accommodate four to six lanes of traffic paved with asphaltic concrete layers. Typical Right of Way width is 70m. (ROW extends 20m on both sides where a service road is provided.) The alignment is comprised of two sections, as follows:
---
- First Section: Bang Yai – Nakhon Pathom (Hwy 321) (km.2+750 - km.47+500) will be a 6-lane, at-grade motorway; and
---
-Second Section: Nakhon Pathom (Hwy 321) - Kanchanaburi (km.47+500-km.96+410) will be a 4-lane, at-grade motorway.
---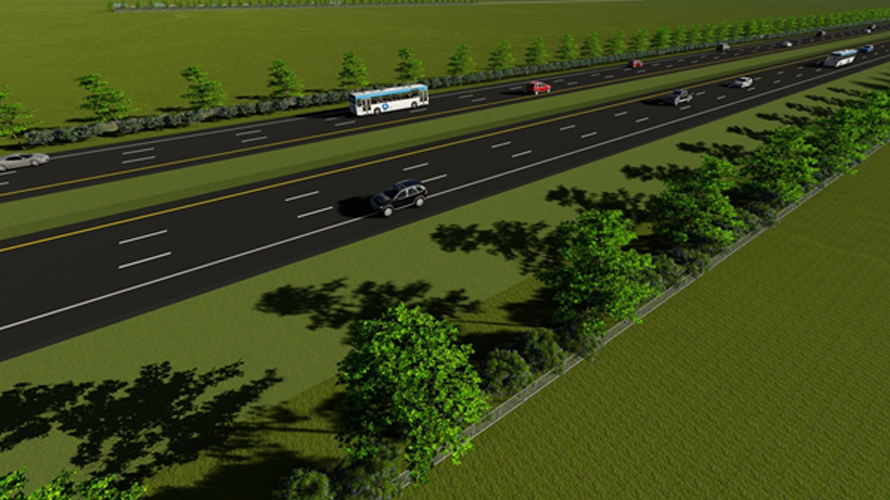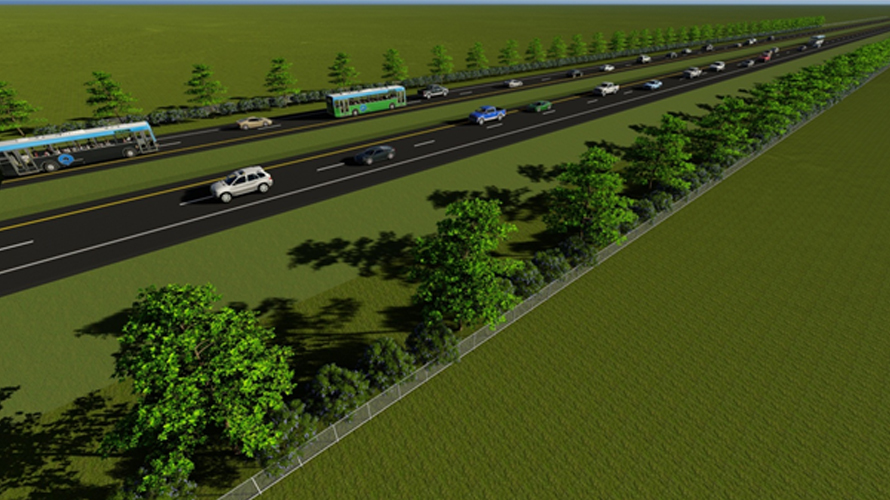 A number of underpasses and overpasses are provided throughout the alignment to minimize any potential impacts that might arise to local residents. Based on terrain conditions, a viaduct was designed for the starting point of the project, i.e. km. 0+400–km.2+750. Due to the area having high population density, esp. clusters of housing estates, length of the viaduct is extended to Bang Yai toll plaza.
---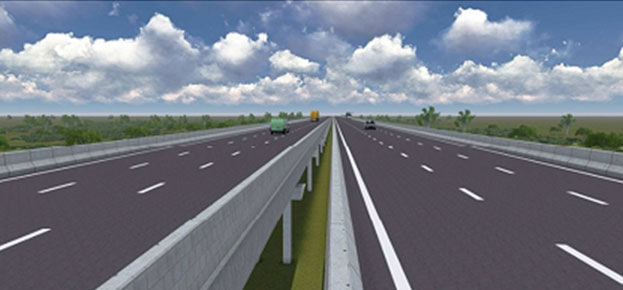 3. Toll Collection System
The M81 will feature a tolled access system wherein tolls will be charged on vehicles according to the distance traveled on the system (i.e. distance-based toll). Manual and Electronic Toll Collection methods will be utilized (i.e. MTC and ETC).
---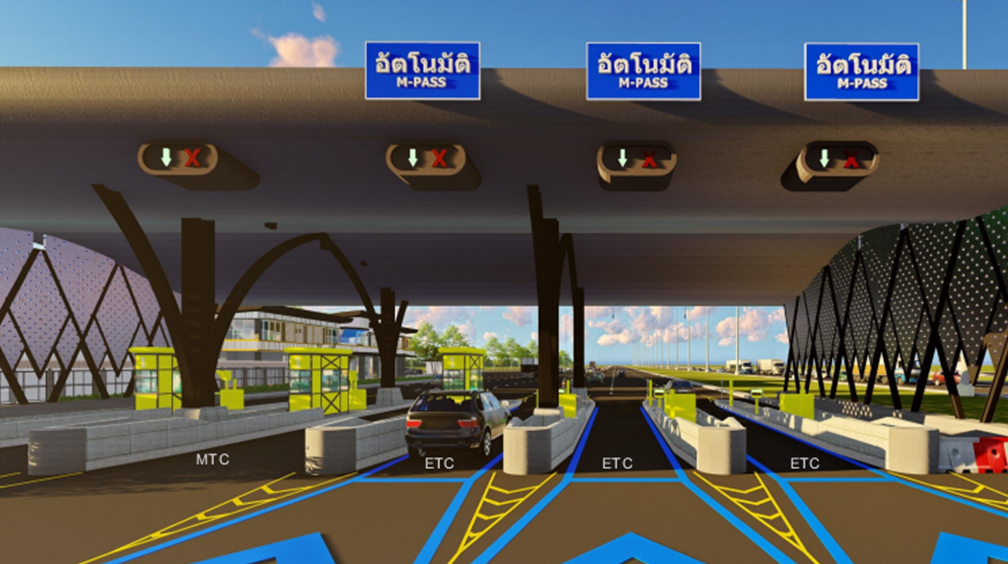 Appropriate toll rates have been defined, in compliance with the current economic and social conditions, taking into consideration both the expected toll revenues and the Economic Internal Rate of Return of the Project, as follows:
---
Type of Vehicle
Toll Rates
(Fixed Entry Rate + Distance-Based Rate)
4-Wheeled Vehicles
Baht 10 + Baht 1.50 /km.
6-Wheeled Vehicles
Baht 16 + Baht 2.40 /km.
Vehicles with Over 6 Wheels
Baht 23 + Baht 3.45/km.
4. Systems for route operation and management
To provide users with motoring convenience, speed and safety, it is essential to have the following systems installed:
---
1) Traffic Control Surveillance System
This system will help to reduce road crashes while it promotes more convenience and faster travels. A Control Center Building will be erected that houses a traffic operation center where commands can be relayed to a comprehensive array of traffic control and management system along the route, as described below:
---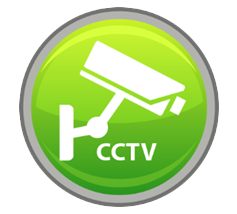 Close Circuit Television System (CCTV)
to monitor traffic conditions on the motorway.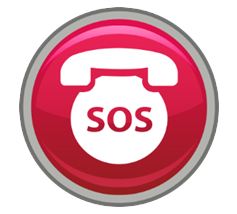 Emergency Telephone System (ETS)
to provide communications channel between motorway users and traffic control officers in case of emergency.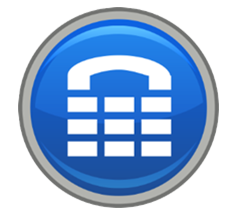 IP Phone
to function as a communications channel linking all toll plazas.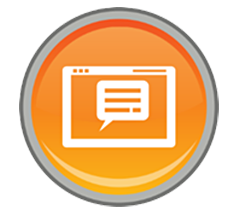 Variable Message Sign (VMS)
to communicate suggestions and warnings with text and symbols to motorway users.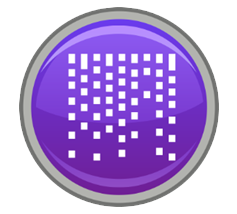 Matrix Sign (MS)
to display variable traffic signs and signals to suit the situation at hand.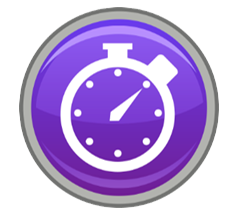 Clock System
displays a standard time for reference by the Toll Collection System and associated devices.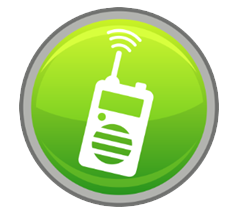 Radio Communication
for receiving and sending radio communications covering the project area.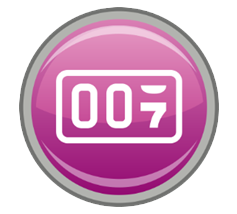 Vehicle Detector System (VDS)
will be installed in each of the traffic lanes to obtain traffic counts for review and analysis.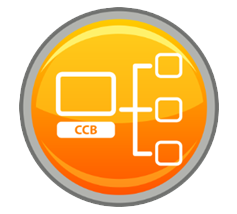 Graphic Display Panel
to transmit and receive data between the Traffic Control Surveillance System / Toll Collection System and the Control Center Building (CCB).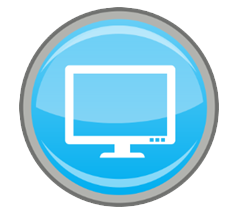 Central Computer System (CCS)
to primarily manage the CCB central data.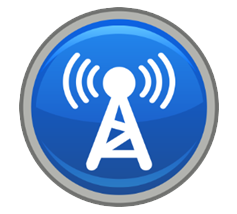 Communication Network System
the backbone of system-wide communication network with a primary function in channeling data through a fiber-optic network.
---
2) Weight Control System
Two types of vehicle weight control system will be installed at toll plazas, i.e. a Dynamic or Weighing in Motion System (WIM) and a Static Weighbridge (SWB), in order to prevent damage to the motorway structure due to overladen trucks. A truck will be directed through the WIM first and be allowed to continue on the motorway unless the weight carried is exceeding a pre-defined limit. For the latter case, the truck will be required to proceed to the Static Weighbridge in order for a more accurate weight to be determined.
---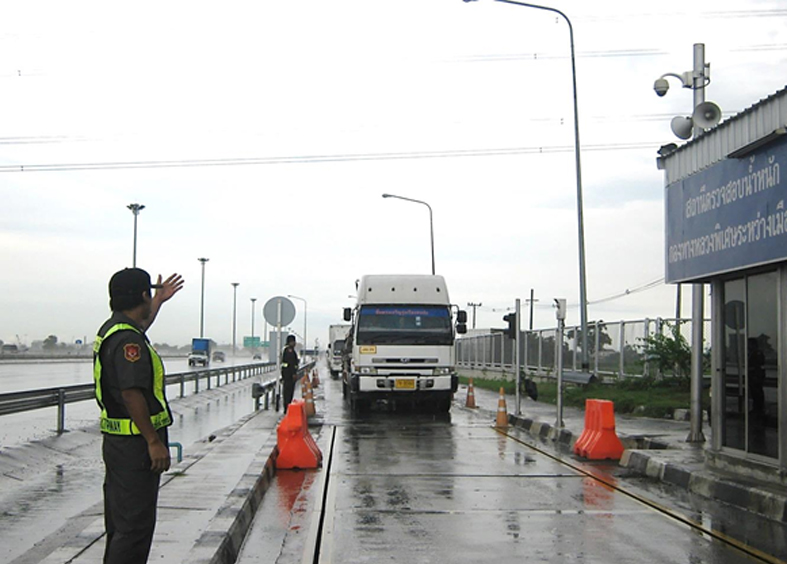 ---
3) Emergency Rescue System
To offer security and assistance to motorway users in a case of emergency, a number of rescue systems will be positioned strategically along the project alignment in order for these units to quickly reach the scene of an incident or emergency.
---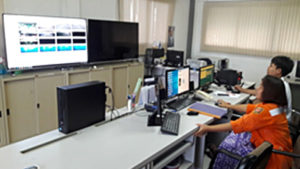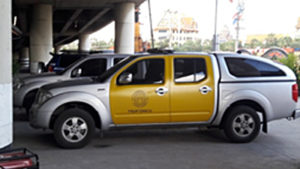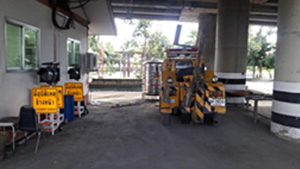 Emergency Rescue personnel and equipment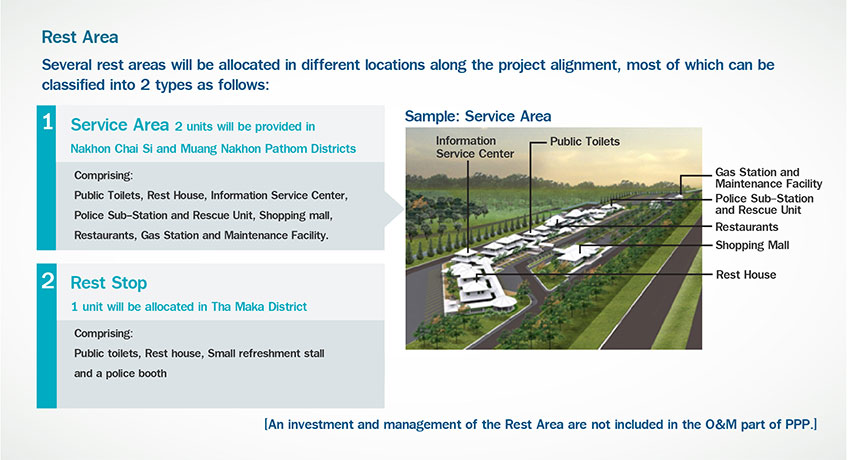 6. Environmental and Community Impact Mitigation Measures
A development project of this size will quite likely cause some impact to people as well as its surroundings. DOH therefore made a decision to design the project so as to avoid or minimize any likely impact on nearby communities and the environment. DOH's care in this area led to an approval for its Environmental Impact Assessment Report (EIA) from the National Environment Board in 1998 (The EIA Report for the Intercity Motorway Project, Bang Yai – Ban Pong Section) and 2003 (The EIA Report for the Intercity Motorway Project, Ban Pong - Kanchanaburi Section).
---
During the years that had transpired, many changes have been brought to the project area. Accordingly, DOH in 2016 decided to commission a re-assessment of the EIA report aiming to review details where significant changes from the previous conditions have occurred. As a result, findings of the new EIA study were approved by the National Environment Board in 2017.
---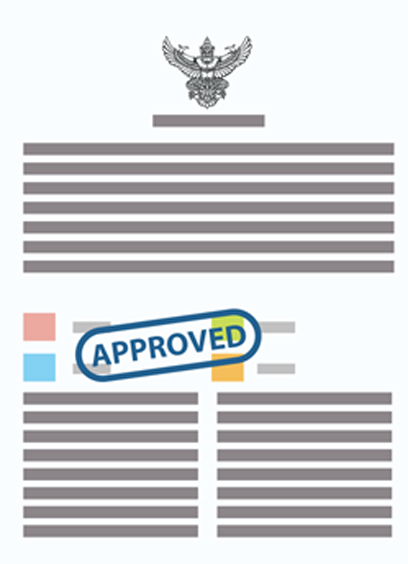 Construction Schedule
---
For the M81 motorway construction work to finish and the route opened for service within 2020, DOH has come up with a construction schedule, as follows:
---
1) Civil Work: Construction work for the project has been underway since 2016. DOH has commissioned civil work on the Lump Sum contract basis.
---
2) System Installation and Operation and Maintenance (O&M): DOH is in the process of inviting private sector investment. Tender Call for the O&M contract is scheduled for February 2018.
---
3) Investment and Management of Motorway Rest Areas: Plans have been drawn up for private sector participation in the next stages of the project. (A separate PPP contract from the one for PPP O&M.)

1 Private sector party is to undertake the followings: facilities design, financial sourcing, system construction, toll collection system, traffic control and management system, data communications, power distribution, weight control system, maintenance, emergency rescue, public information service and user assistance.
---
2 Investment and Operation by a separate private investor: facilities design, construction, financing and operation for the motorway rest areas.
---
Investment in and management of the Motorway Rest Areas are not included in the scope of the PPP for Operation and Maintenance package.
Project Status
---
Progress of the Bang Yai – Kanchanaburi Intercity Motorway project is described below:
---
1) Civil Work Construction Contract: devided into 25 sub-contracts 24 of which have been awarded and signed. Progress is estimated at 5 percent (as of December 2017)
---
2) O&M PPP Contract: The cabinet approved the proposed PPP Gross Cost platform on 22 August 2017. DOH is proceeding with inviting private investors to tender for the work.
---
3) Rest Area PPP Contract: DOH is proceeding with preparations on related legal requirement and obtaining approval for a PPP financing scheme based on the government policy to expedite PPP undertakings. DOH is to implement the PPP tender process on Rest Areas in the upcoming phases of the Motorway project.
---